Sustainability
Tackling global challenges through innovation
The UN adopted the sustainable development goals (SDGs) in 2015. Corporations are now urged to combat societal issues as part of their sustainable business initiatives.
At HPC, we specialize in innovation.
As a resilient team dedicated to creating value while devising solutions, we continue to take on all challenges as we work to bring about a sustainable future.
Our Commitment
Looking ahead to the next 120 years of our development as a sustainable enterprise
As we work to realize a sustainable future, we must face a range of issues that require resolution.
To tackle the challenges facing all of humankind, such as climate change, limited resources and energy, pollution, and health issues, HPC has adopted the mission of providing society with the value that leads to greater affluence for future generations while responding to the needs of the times.
In 2022, HPC adopted the sustainability policy of "Tackling global challenges through innovation" and identified three core themes: industry, society, and the global environment. These three core themes have been further subdivided into twelve materialities that describe our vision in detail.
To implement our sustainability policy, we are combining our business operations with management strategies in an integral manner with the aim of becoming a sustainable company capable of sound growth.
At HPC, we remain committed to working on specific initiatives that contribute to the attainment of the objectives of the SDGs.
Sustainability Policy
Tackling global challenges through innovation
At HPC, we specialize in innovation.
As a resilient team that constantly creates value through our dedication to devising solutions, we will continue to take on the challenges that will lead us to a sustainable future.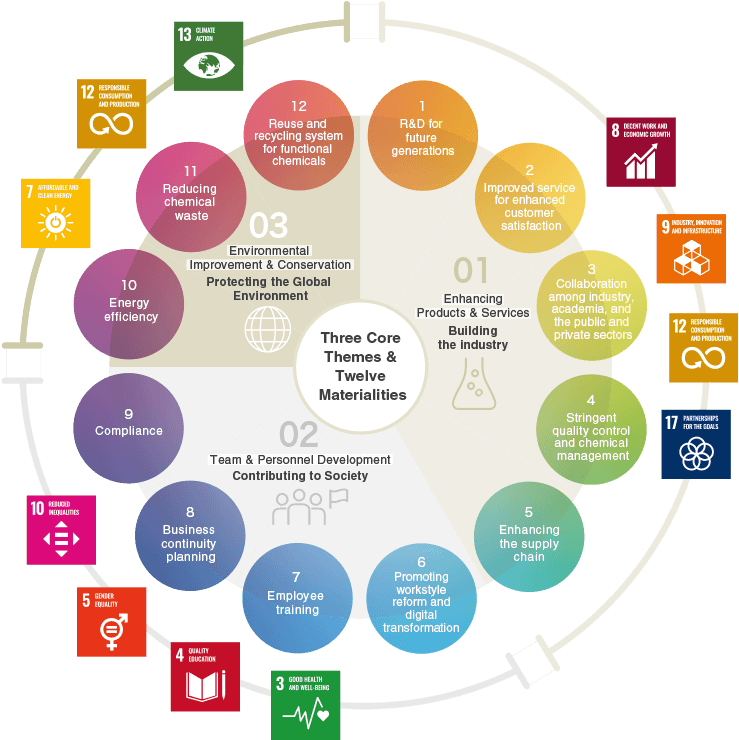 Three Core Themes and Twelve Materialities
HPC has identified three core themes and twelve materialities as societal challenges that our business will work to overcome to contribute to a sustainable future.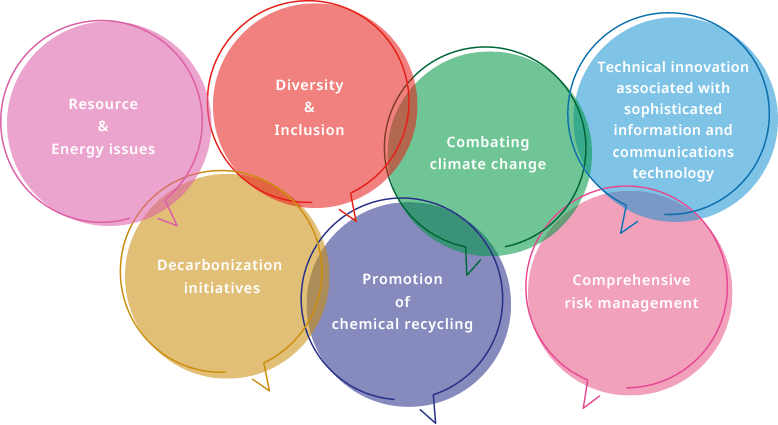 Using Our Resources to Address Societal Issues
A clean production environment to benefit future generations
Our products require an assurance of quality because they can be difficult to process. At Hayashi Pure Chemical, we have established a system that enables us to supply reliable, high-quality products through stringent quality control processes undertaken by an organized and dedicated team. Our Techno Center, which maintains numerous analyzers that cover a wide range of evaluations, exemplifies our diligent approach. We have also introduced a recycling system that supports greater production efficiency and environmental protection. We also maintain a clean production environment as we pursue product development for future generations.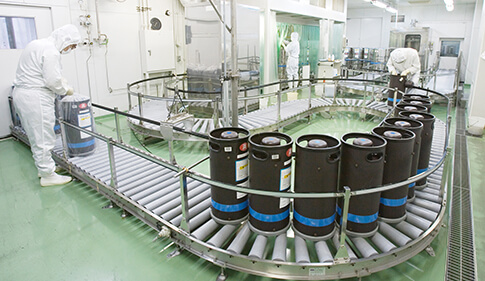 120 years of technical expertise and chemical innovation
HPC's 120 years of history reflect our dedication to devising solutions. HPC has a history of providing electronic materials, reagents, and other chemicals to meet the needs of the age. We have accomplished this by building on solid technologies that can be used to overcome innumerable difficulties and barriers, and by applying expertise we have gained through a longstanding foundation of experience. We will continue to contribute to the growth of our customers and the development of industry by drawing on our reliable supply chain and a nationwide distribution network that extends from our four hubs.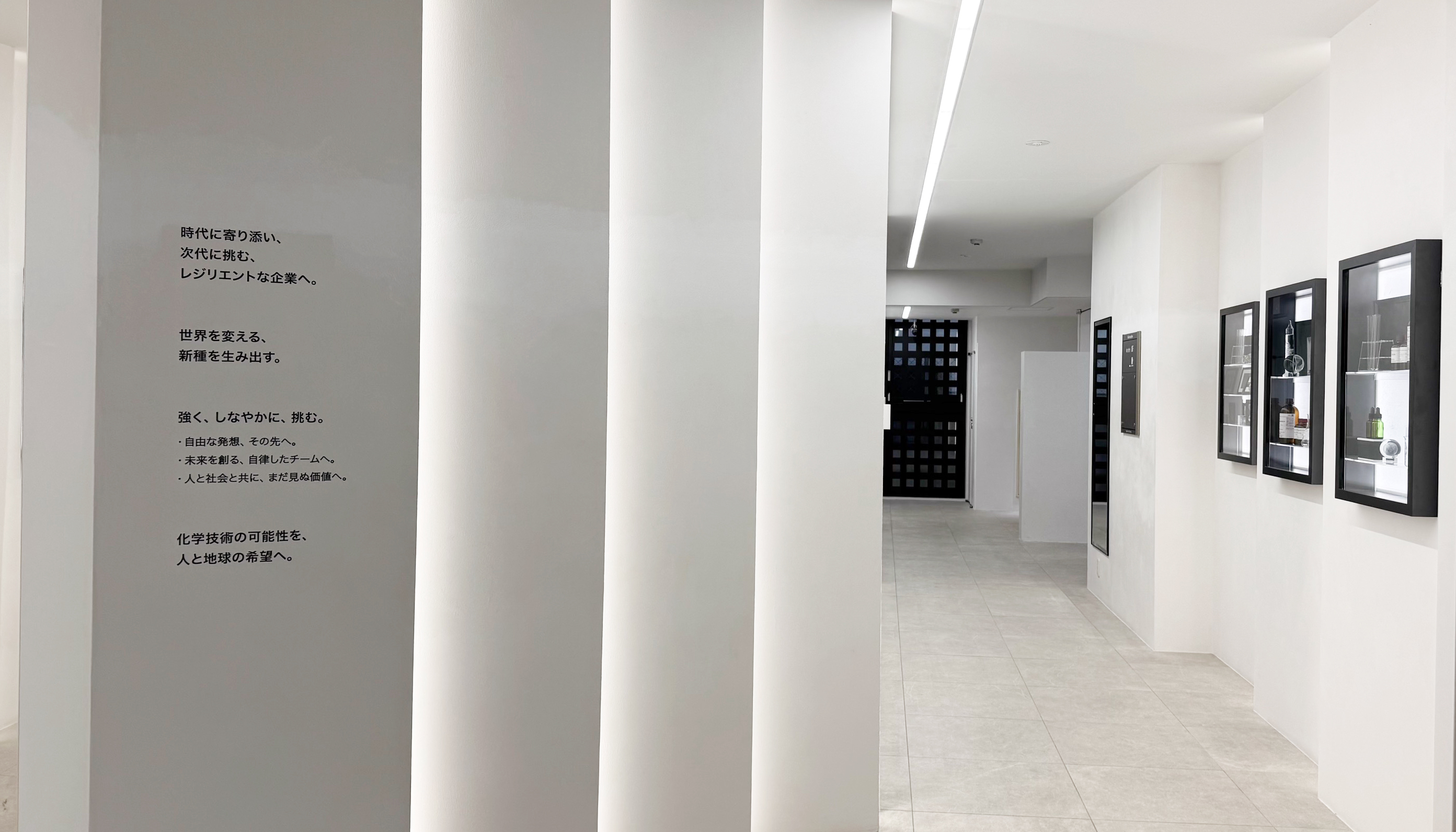 Diverse and flexible offerings that create value to fulfill the needs of the times
HPC's technical capabilities are derived from R&D in sync with the changes in the market and economic environment. This allows us to offer products that accommodate our customers' production processes. HPC is highly regarded for its flexible offerings, which include ultra-high-purity and high-performance chemicals for the electronics industry. We also supply materials, accept small-lot production orders, and offer a toll manufacturing service. Moreover, we are actively engaged in joint research and development with various manufacturers, universities, and research institutes with an eye to developing high added-value products for emerging market needs.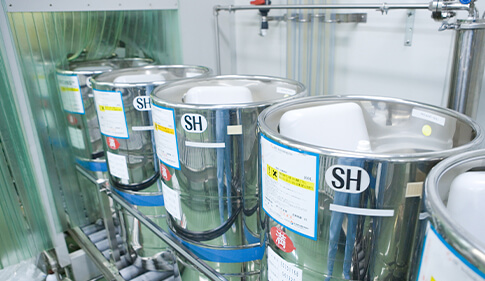 Businesses & Products
Electronic Materials

We provide a diverse range of functional chemicals that are essential to the manufacture of semiconductors and LCD panels.

Reagents & Chemicals

In addition to providing reagents for use in research and analysis, we offer a toll manufacturing service for the preparation of special-purpose reagents and other chemicals. We also offer a contract organic synthesis service.

* The above link takes you to Reagent Direct, an online reagent store.

We are committed to a sustainable future on the foundation of a vibrant
and contented society and a healthy global environment.